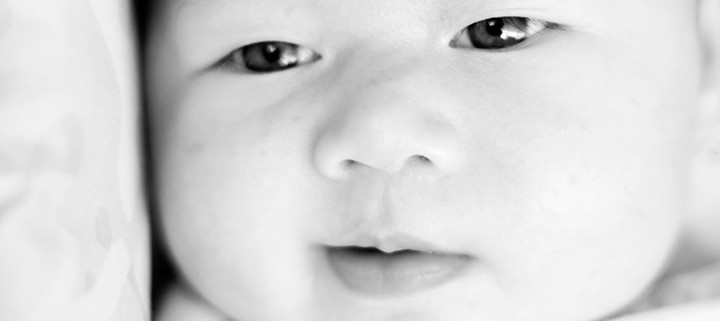 Thoughts about the last couple of months
By Kasandra "La China"
July 22, 2008
4:48am At Home
Everybody is sleeping except me…
What can I say?  My blog productivity is way down because I don't know where my spare time has gone.  Right now everyone in the household is sleeping but I've been wide awake since 3am.  I thought this might be an opportune moment to offer thoughts about Flamenco Life after Baby.
I taught until week 37 and ended off with a bang with my students performing at the El Jaleo Performance on May 3, 2008.  I didn't dance but I did manage to play palmas and cajon for the evening.  Thinking back on this, knowing what I know now, I would stop dancing/teaching at week 35 and take it easy.  It was all good until the final week when the baby would kick all over the place during bulerias class.  For some reason, the baby likes bulerias and would do some massive kicking which is impossible to ignore.  Footwork was increasingly difficult with the extra weight.  I gained 35 lbs by week.
Once I had spare time, I was overwhelmed with the preparations for the baby…furniture, set up, sorting gifts, clothes, etc.  The final two weeks was brutal.  I gained 5 lbs of water each week which was a whopper I did not expect.  My hands and feet were swollen and ice would not bring it down.  At the end, I gained a total of 45 lbs.  (Don't worry girls, 2 months later I only have 10 lbs left to lose.  It comes off naturally.)
Jassmone (pronounced Jazmin or Jasmine) was born on May 16, 2008 at about 4am after being induced at 11am.   Actual labour was approximately 12 hours.  I am NOT going to blog the labour experience because I don't want to scare the bahjeezus out of women.  I'll only say, HOLYCRAP there is nothing that is like it.  You probably would not understand unless you go through it yourself.
The baby was 7 pounds and 12 ounces, 50 centimetres long and had a head circumference of 33.5 centimetres. The actual due date was May 26, so she was 10 days early. I guess she wanted to be a Taurus, not a Gemini…much to the chagrin of all my Gemini students.  Haha!
I am thankful for Jassmone every day.   She's really sweet and it puts my whole life in perspective.   Life is only eat, sleep, pee and poo, and the only thing that matters is her well-being.   She's really cute and has changed her look a couple times already.   I've been singing all kinds of songs to her, including some flamenco tangos and bulerias.  I have to say that she prefers bulerias over tangos any day.  Strangely, she can sleep with flamenco CDs, girls coming over to practise castanets, friends playing flamenco guitar, palmas and cajon.
What about me?  I'm starting something new.  Learning how to play the guitar…starting with solea.  I can say I have a new appreciation for guitarists, going out of compas and doing weird strumming techniques.  I played the guitar in high school, but never like this.  I can honestly say that I don't know if I am EVER going to do a rasqueado.
Spare time is rare.  My computer productivity is way down.  Sorry for the delayed blog.  The first month was a gong show and I let everything slide.  Now that Jassmone is 2 months old, I am back to teaching workshops and back to flamenco.
How did I feel going back to the studio to teach on her 2 month birthday?  FABULOUS. AWESOME. CAN'T WAIT TO DO IT AGAIN.
Now and for the rest of my life, I am Mommy 24 hours a day, from sun up to sun down and beyond. The baby is my new boss and dictates my day.  Teaching last week, I got to be the boss again even if it was just for 90 minutes. It was a great escape and allowed me the luxury of FOCUS.  Focusing with intensity is something I miss.
I am Mommy but Soy Flamenca .